PRIVATE SKI LESSONS Courmayeur
Book your Private Ski Lesson in Courmayeur for the best Tailor-made instruction ever!
Private Ski Lesson in Courmayeur are designed for youth and adults, from beginners to experts of all ages. The best way to quickly improve your skills and technique, to feel more confident on skis or simply to enjoy the mountains.
Whether you have confidence issues or are struggling with a particular skill or terrain, or even need a refresher after a few years out, private ski lessons are the best option thanks to their flexibility and tailor-made programs. The best ski lessons in Courmayeur provide you with personalized teaching that adapts to your expectations, a close and constant attention that allows you to work more intensively whatever your level.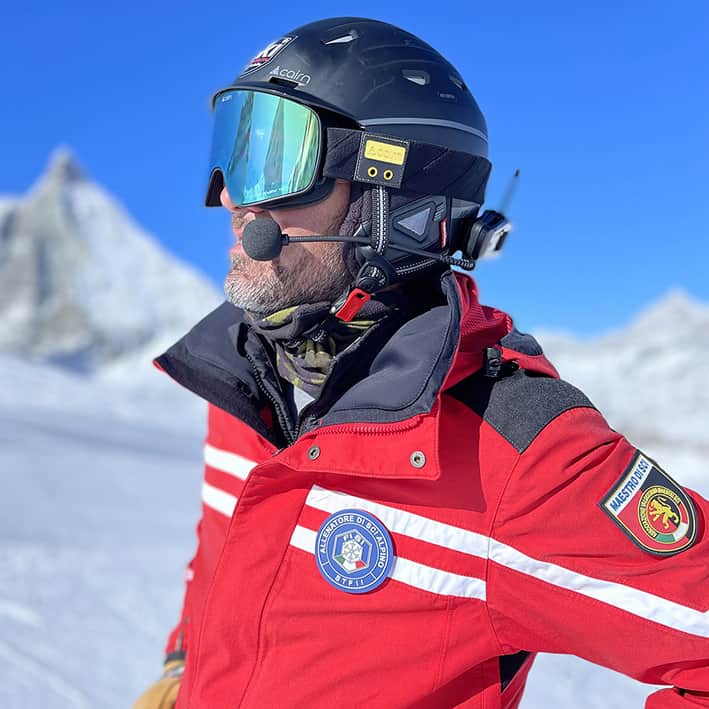 Through targeted exercises and personal corrections, supported by the Cardo packtalk system, you will rapidly improve your skiing skills in complete safety.
Meeting your needs is my priority. Take the best ski lesson suited to your level and wishes with SKI-UNLIMITED!
✓ Check Your Ski Level
❅ Never skied before
❅ Beginner / Blue Runs: You can slide, slightly change direction, and come to a stop / You can link turns together and stop where you want
❅ Intermediate / Red Runs: You can skiing mostly parallel in a couple different turn sizes / You are able to make parallel turns with a pole plant
❅ Advanced / Black Runs: You  can make different turns sizes and shapes, including rhythmic short turns and large carved turns / You feel comfortable exploring black terrain
✓ PRIVATE SKI LESSONS 
✓ Full Day from 9:00am-4:30pm.
✓ Half Day from 9:00am-1:00pm and 1:30pm-5:00pm
Half Day
€260
9:00 - 13:00 / 13:30 - 17:00
+50€ EXTRA PERSON
PEAK SEASON (08/12 - 25/12) – (03/02 - 09/02) – (19/02 - 14/04) (every weekend): 320€
TOP SEASON (26/12 - 06/01) – (10/02 - 18/02): 420€
Full Day
UP TO 2 SKIERS +60€ EXTRA PERSON
PEAK SEASON (08/12 - 25/12) – (03/02 - 09/02) – (19/02 - 14/04) (every weekend): 500€
TOP SEASON (26/12 - 06/01) – (10/02 - 18/02): 680€ up to 3 Skiers
HELI-SKI SAFARI Courmayeur ⇢ La Thuile / La Rosière
€295
9:00 - 16:30
Price per skier
MINIMUM 4 SKIERS prices include round trip helicopter
PEAK SEASON (08/12 - 25/12) – (03/02 - 09/02) – (19/02 - 14/04) (every weekend): 300€ price per skier
TOP SEASON (26/12 - 06/01) – (10/02 - 18/02): 360€ price per skier